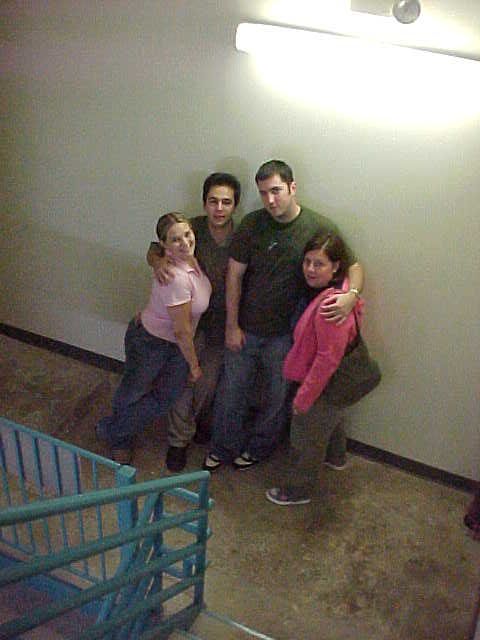 in the basement of my apartment building we discovered a large map of chattanooga. i would love to have a wall big enough to hang it on. chris g had a good idea though. he's the one second from the left. he said i should cut the map apart and put sections of it in each room of my apartment. then when i'm headed to the bathroom or the kitchen i could say i'm going to redbank or let's go in to st elmo. the other idea is to laminate the whole map and use it as linoleum for breaking.
today the map is the least of my worries. the map between the 45 and i is so much bigger than anything that i could ever fit into my apartment. i hesitate to say much about how i feel about our geographical distance. i've been to honolulu to visit and i absolutely loved being there seeing a beautiful landscape everywhere i turned.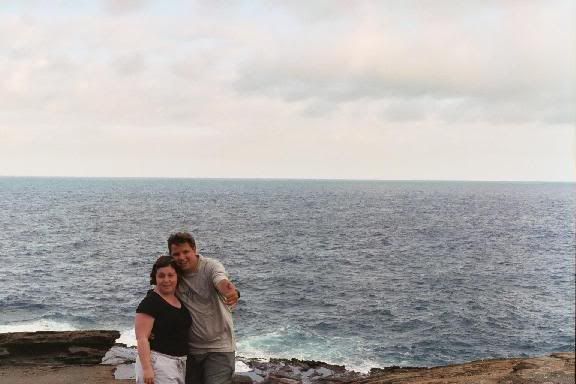 i look cocky eyed in the picture of the 45 and i but i don't care. the 45 has a great job on Hickam AFB and he'll be starting the united airlines job in october. that's awesome and i'm so thankful to his parents for letting him live with them so he can save up a bundle of moolah moolah for us to beable to live out there. but we've pushed back the process and i miss him so terribly. and i'm emotionally distraught and confused about making a decision. my faith is being stretched to it's limits. i don't look forward to spending a year of our relationship apart just so that we can live in hawaii. but at the same time i know of plenty of couples who have been apart during crucial parts of their relationships and they make it and they are stronger for it. many people ask me why i haven't already moved out there and my answer to that question is that i would like to be married before i make a move like that. the other question people ask is why won't the 45 move back to chattanooga and then you both move back out to honolulu. we have some extremely tough choices to make. we were able to talk quite effectively while he was visiting and i felt like we came to a reasonable conclusion but he's only been gone three days and i'm hurting so badly right now. our primary focus has always been our love and our faith, but now we're both fighting to think and swim above the water. i know that there are tons of people out there praying for the 45 and i. kate and joel, jen kring, my mom and dad and brothers and sisters in law, shan alexander, and maryalice hatch, and recently i just found out that tobey carpenter has been praying for me. i know that i am blessed and i have felt the holy spirit surrounding me with wisdom, guidance, strength, love and grace and mercy. my god is miraculous and i am apart of a this miracle campaign. my appreciation to those of you who stand with me during this time in my life.