i have brown eyes, brown hair and today is tuesday. i forgot that i needed to get gas before work and left the apt without drying my hair. it is a less put together brown day. i stayed up later to work in the brownish grey pages of a 99cent crossword puzzle mag. even though i have posted my elephant puzzled piece before i had to help the urge and show you. i like dirt and used to make mudpies with dear pals on parker lane, you know who you are! dirt is brown and brown is especially beautiful with blue, i'm reminded of shashi's
choice of paper
, what a treasure. globe's and maps are basically beautiful for the same exact reason. the brown's and blue's! whaha! i like brown light, that tone of sepia. not one you have to manipulate so much but
light like
this. i like my brown reef flipflops that i bought in the gulf last year, they've been a hit. the summer wouldn't be summer without a pair of your favoritely walked in flops.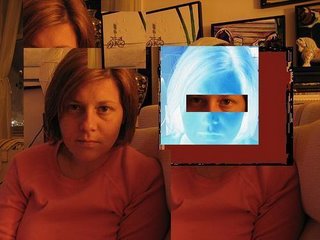 i promise that i'm not mad about anything. i promise that i'm tired and i feel torn between two of me. i've not contributed to pop art spt yet in the month of june,
so here it is
girls and boys. i take a whole bunch of photos before i go to bed every night a way to wind down. i like cutting and chopping up pictures like it's paper. i'm not sure that this one qualifies but isn't pop art-popular art, collage um? or not? this pic reminds me of how much i'd like to sell the painting in the background of how much i'd like to clear my apartment out and start all over again. this pic speaks of many circles developing under my eyes i must try at least once a week to heal with burt's bees compfrey ointment. i think of how much i wish i'd get my bicycle up and going. how as a little girl i thought i most definitely had a pumpkin shaped head. how i'm beginning to think that i'm never going to grow taller. and you'll never get a full figure shot of me for spt. i mean for god's sake you'd think i'd know by now, i finished growing in fourth or like fifth grade. again this is a good example of brown light, a perfect assembly of color, brown and blue. how come we store up emotions and how come i'm not as bold as i'd like to be. before you sell out on your appearance you may want to think about what you'd be creating. before you decide to stay up too late you might want to remember my deep wrinkles, it's scarey so don't look to closely!!! awhga!